Leather goods inspired by the Amalfi Coast hippie-chic style
Do you like Art and Crafts? Are you dying to stand out by wearing accessories designed on the hippie-chic style of the Amalfi coast? Bazar Florio is the right place for you. We sell handmade leather products inspired by style and colours used by artists who made and still make the Amalfi Coast famous around the world. Be like an Amalfi Coast artist with Bazar products.
Premium Collections inspired by International artists who worked on the Amalfi Coast
Be hippie-chic with Bazar
From paintings to leather...one family, one passion for Art
Bazar Florio shop was born in 1970 with Alfonso Florio, Franco's dad. He was really passionate about painting and talented in renovating scultures and marbles.
By that time the shop worked as atelier
When Franco grew up, he decided to step in and start selling leather bags, 100% handmade in genuine Italian leather.
Creativity, indeed, didn't leave the Florio family. With Franco, the efforts were being oriented in designing the shape of our leather bags, wallets and fashion accessories inspired by the Amalfi Coast.
One could say that a never-ending passion toward Art has been the fil rouge throughout different generations. Our aim is to keep providing clients with artistic and genuine products, 100% inspired by passion for Art and hippie-chic lifestyle of the Amalfi Coast.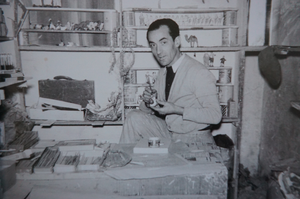 1970, Alfonso Florio at work in his atelier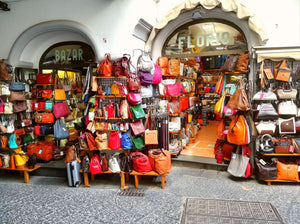 Bazar Florio today in Amalfi